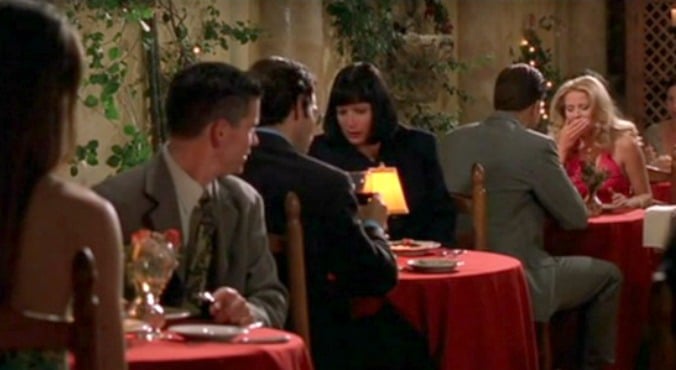 Image: MGM
The dating game is a minefield. Sometimes you'll find a rare gem of a date where you don't find yourself mentally listing the contents of your fridge to appear interested. Other times, even keeping a (very fake) smile on your face is an Olympic effort.
But while at least bad first dates make for great stories, sometimes they're so terrible they're not even worth waiting it out for dessert. Here, 15 people share what made them walk out halfway through a first date. Awks.
1. Pyjama party.
"It was more at the beginning of the date. He picked me up. The first thing he said to me was 'You really don't look good. Can you go change?' I said, 'Sure', and went back inside, took off my makeup, put on my pajamas, and got out the take-out menus," said one Reddit user.
"A few minutes later he comes knocking at the door and seemed genuinely surprised that I didn't want to continue the evening with him."
2. Three's a crowd.
"He brought another girl with him. When we finally got to the movies, we took our seats, and I said 'I'm going to the bathroom' and grabbed my stuff and left," said Redditor pm-me-your-phillips.
Watch: Mamamia staff confess when they knew their relationship was over. Post continues after video.) 
3. Priorities.
Haven't we all thought of doing this?
"I left my date early so I could come home and eat the cake I made today," shared one user on the secret sharing app Whisper.
4. Conspiracy theories.
"He was 45 minutes late, got mad that another guy had started chatting me up at the bar while I waited, then proceeded to tell me about the hidden satanic messages in the opening ceremony of the Olympics," wrote Reddit user titlejunk.
5. Mystery tattoo.
"I had been out with a guy a couple of times and he invited me over for a movie date. First time I had ever seen him in shorts. Nazi tattoo that he had given himself on his leg. No thanks. I left," said Redditor dorothyborothy. (Post continues after gallery.)
Our favourite on screen couples.
6. Instant dismissal.
"He turned out to be a big homophobe. Bye bye!"
7. Starstruck.
"Blind date, Indian restaurant. First thing he does is produce a folder of photos of him and various celebrities. Shows me them, one by one, all night long," shared a Reddit user.
8. Wine not.
"Beginning of the date actually… He picked me up, i got in the car and he passed me a breathalyser. He says 'I had some wine while I was waiting for you to come out, can you blow on this so I can start the car?" wrote Reddit user callanna.
9. Hold the cheese.
"He smelt like a cheeseburger. Like really strongly like one. Maybe he'd just eaten one… "