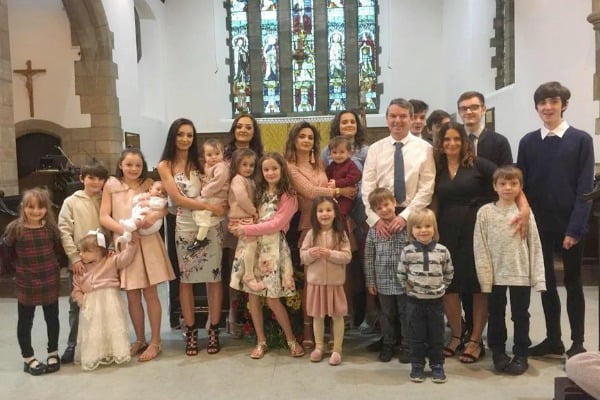 Sue and Noel Radford said they were going to stop at 21 kids. But now they're having just one more.
The Radfords already have the biggest family in the UK and have featured in a series of TV shows, starting with 15 Kids And Counting in 2012.
Sue, who's 44, announced her pregnancy in a video posted to YouTube yesterday. She couldn't contain her excitement as she prepared to go for an ultrasound.
"We're going to go and have a little peek at the new little Radford!"
Sue and Noel, who's 48, are hoping their newest baby, due in April, will be a boy, giving them an even number of boys and girls.
"I am feeling a bit boy," Sue says in the video.
The couple had their first child, Chris, back in 1989, when Sue was 14. Five years later, they had Sophie, quickly followed by Chloe, Jack, Daniel, Luke, Millie, Katie, James, Ellie, Aimee, Josh, Max, Tillie, Oscar, Casper, Alfie, Hallie, Phoebe, Archie and Bonnie.
Alfie was stillborn at 23 weeks.
Noel had a vasectomy after Sue got pregnant with James, but then had it reversed.
"We're addicted to having all these kids," Noel once said. "We just love it."
The Radfords live in Morecambe, Lancashire, where they run a bakery and own a 10-bedroom house. Chris and Sophie no longer live at home, but 18 Radford children still do. As of April next year, that will be 19.
"Next year will be really good," Sue says.
Meanwhile, in Toowoomba, Queensland, Jeni Bonell was "dancing" with excitement at the Radfords' news. Jeni and her husband Ray have 16 kids of their own, and Jeni has been friends with Sue for years.
"She's seen me through some pregnancies and I've seen her through some pregnancies and we chat all the way through," Jeni tells Mamamia.