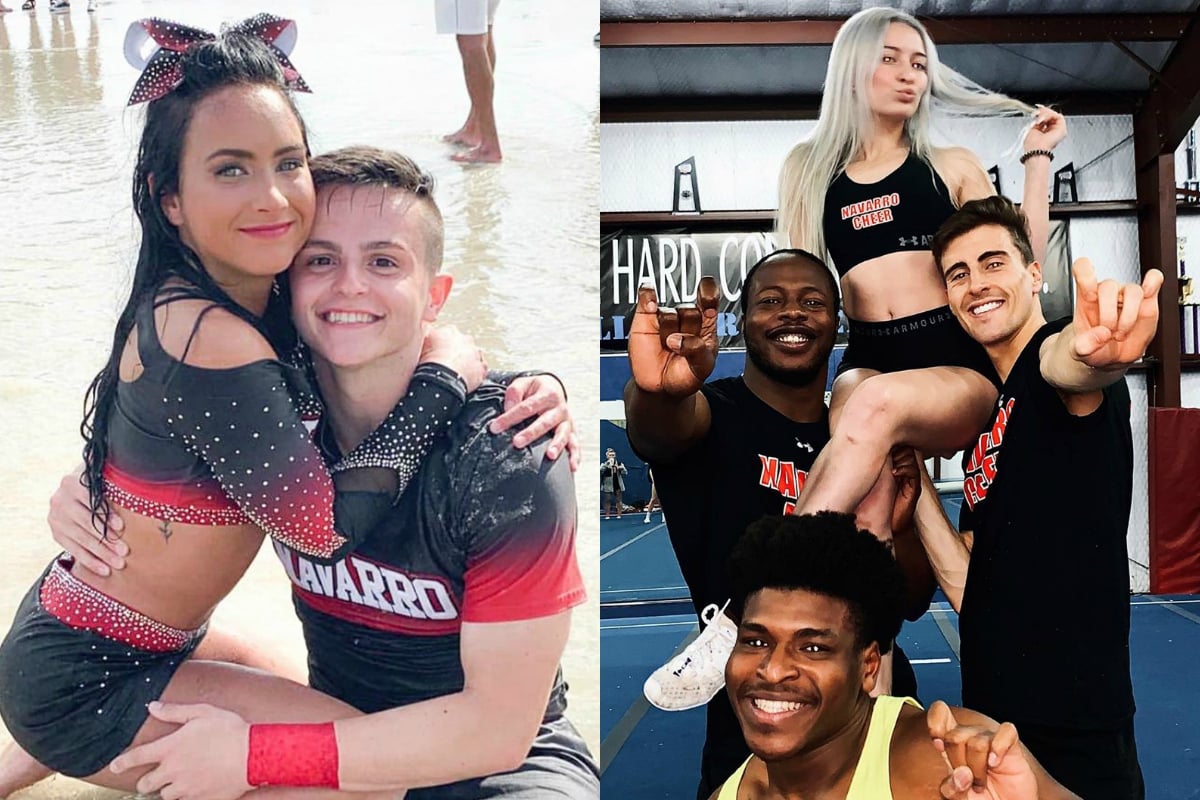 If you had told us a few weeks ago that by the end of January we'd be following 20 cheerleaders and their coach on Instagram, we wouldn't have believed it.
But… Here we are. Scrolling our feed, double-tapping on Gabi Butler's photos and laughing at Jerry memes on his story.
Because we, like much of the world, watched Netflix cheerleading docuseries Cheer and became much, much too invested in the lives of the Navarro cheer team and their coach, Monica Aldama.
Watch the trailer for Netflix's Cheer and you'll instantly understand the hype. Post continues below video.
With Netflix keeping quiet on whether a season two is on the cards, we're not sure if we'll get an official look at what our favourite cheerleaders have been up to since we left them after 2019's Daytona win.
So we did a little investigating ourselves, to see how Morgan, Lexi, Jerry, LaDarius, Gabi and the others are going.
Gabi Butler.
As we heard in the finale episode of Cheer, Gabi left Navarro to move home to Florida. She now cheers for Top Gun in Miami, has relaunched her YouTube channel with behind-the-scenes footage from Navarro's trip to Daytona and, get this: She's also gained more than 700,000 followers since the series dropped.
Gabi's reportedly dating Florida football player Jordan Brooks-Wess.
Jerry Harris.
We must protect Jerry at all costs.
The fan-favourite received a scholarship to the University of Louisville in the Cheer finale, which would have spelled the end of his Navarro days. Since filming, Jerry actually did attend the college for a semester.
But now he's back in Corsicana, Texas.
"I actually went last semester [to Louisville] but was missing Navarro so much so I reached out to Monica and asked if there were any openings for me and she said yes, so I decided to seize the opportunity to make myself happy and do what I wanted to do. So, I decided to come back," Jerry told Esquire.
"As of right now, it's just another semester, I don't know where I'm going to go after this, school-wise, but I'm just happy I get to spend a couple more months with my family."
His 'cheer family' have also reopened a GoFundMe page originally started in 2016, to help Jerry financially after his mother's death.
Morgan Simianer.
Morgan recently completed her Associate degree in Sociology and is now taking a dual enrolment program through Navarro College and Texas A&M Commerce. Yep, that means she is back at Navarro for another year, and Morgan told MTV News they've just started their Daytona season for 2020.
She said at first she was nervous to share her backstory, which involved being left to live often alone in a trailer park by her father before being taken in by her grandparents.
"I was scared I was going to be judged, and that people were going to be like, oh, sob story, blah blah blah, so I was very scared to open myself up to everyone. And obviously we didn't know it was gonna be this big, so it was even more scary," she said.
"But once it came out, I realised how many lives my story impacted and how there are so many people that can relate to the same things I went through, and how I've been helping and motivating them that like, they can get through the trials in their life… It makes me cry just thinking about it."
Morgan's dating baseball player Brad Markey and has more than 750,000 Instagram followers.
Oh, and you'll be pleased to hear her ribs are fine now.
LaDarius Marshall.
LaDarius ended Cheer contemplating his future, saying he saw himself with a family, a house and "a comfortable lifestyle, where I know I won't ever have to struggle again". He said he was considering becoming a personal trainer and a choreographer, or joining the military.
Now, LaDarius is coaching a team in Mississippi and is back for one last semester at Navarro.
He told E! Cheer helped him realise he was able to be " the open, honest, free person that I always wanted to be".
"It was very tough for me to talk about my past because in my community, we don't talk about stuff like that. We don't talk about having mental issues, because we don't believe in mental issues. That's what we're told all the time, and you just keep moving, you just keep pushing. And that's one thing I really wanted to say is that remember that you have a voice, and if something happens to you, you are allowed to say something and do something about it."
He said since the series dropped he'd been able to connect with others who had been through similar situations and offer them inspiration and guidance.
Oh, and he debuted his boyfriend on Instagram. Yaaaaas.
Lexi Brumback.
Lexi's story came to a sombre end, but it turns out all was not as it seemed.
Her final scene sees her at a rave, but it turns out this was filmed months before Daytona.
"They made it look like that's all I was doing when I left, and that's not the case," Lexi told Entertainment Tonight.
She said she was "raving the whole time" she was at Navarro. It was about having fun, not making bad choices.
"It was like it was bad and about making bad decisions. They even put that quote in the rave scene and I was like, 'that's so messed up!' It's not about making bad decisions, it's about being in an atmosphere and listening to good music and enjoying yourself."
Instead of heading down a dark path, Lexi enrolled in another school after leaving Navarro before being given a second chance by Monica.
She's now back at Navarro for the 2019-20 season and we're so damn grateful.
Mackenzie Sherburn aka Sherbs.
We audibly gasped when Sherbs dislocated her elbow during a Navarro practice, meaning she wasn't able to compete in Daytona.
Fortunately, she made a full recovery and is back cheerleading, this time for Texas Tech University along with a fellow NC cheerleader…
Austin Bayles.
Oh, Austin. That ankle injury during the Daytona performance will haunt us forever.
"Dislocating your ankle mid-performance on the bandshell and popping it back into place yourself is never something you can expect to happen in a performance but nevertheless everything happens for a reason," he wrote on Insta after Daytona happened in April.
"Watching my team retake the floor with my name written on their wrist showed the true dedication, passion, love, and heart that every single one of them had for our team."
He graduated from Navarro and is now cheering at Texas Tech alongside Sherbs.
Allie Ross.
Allie is also back at Navarro for another year, and still basketing like a queen.
Ashlee Sawai and Sydney Andalio.
Ashlee isn't very active on Instagram, but we feel compelled to share: THERE'S A NAVARRO LOVE STORY.
Ashlee is dating fellow NC cheerleader Sydney Andalio, and they've just moved to New Zealand.
TT Barker.
TT's back at Navarro for a final season and most importantly, his back is doing well.
Monica Aldama.
The Queen of Navarro cheer has 315,000 Instagram followers and counting.
Following Navarro's 2019 win, Monica was inducted into the Navarro College Athletic Hall of Fame. She held tryouts for this year (we didn't make it, obvs) and is riding the wave that has come from Cheer.
Read more:
Feature image: Netflix.
To support those affected by Australia's devastating bushfire crisis, you can donate to the Australian Red Cross disaster relief and recovery fund. Your money will go towards supporting thousands of people in evacuation centres, emergency assistance including cash grants to people who have lost their homes, psychological first aid, and helping communities prepare for future disaster.
MAFS: The Accidental Break Up
Mamamia Recaps