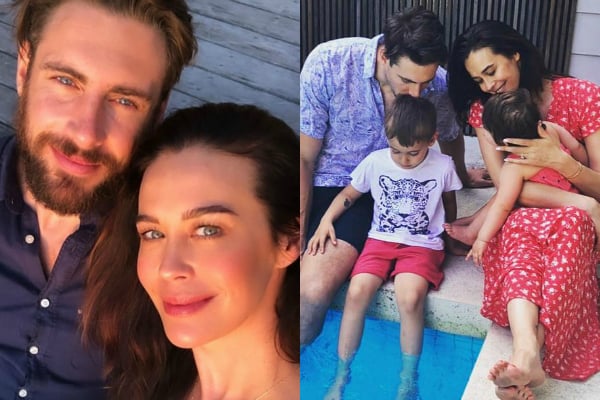 Content warning: This post deals with grief and miscarriage and might be triggering for some readers.
Megan Gale admits it's fair to assume her life is glitzy, glamorous and impenetrable to the pain and struggles of 'everyday people'.
Scroll through her Instagram and you'll see images from the hundreds of magazine covers and fashion campaigns she's fronted over the years, as well as her two beautiful children with her partner, 2019 Australian Survivor star and former AFL player Shaun Hampson.
But something you might not know about Gale, who now runs lifestyle brand Mindful Life, is she's well-acquainted with a unique kind of heartbreak: the grief of mourning a parent with a newborn baby.
Side note – Robin Bailey discusses the grief of losing her father at a young age in the video below, post continues after video.
"Pregnancy was definitely not what I'd always envisioned it to be…" the 44-year-old from Perth told Mamamia's flagship parenting podcast This Glorious Mess in a raw and candid conversation about navigating grief and parenting.
In the months before and after the birth of their first child River, now five, Gale and Hampson lost both of their fathers. Hampson's, to prostate cancer a month before River was born, and Gale's, to lung cancer 14 weeks after.
Gale said she was told about her dad's diagnosis when she was 12 weeks pregnant. 12 weeks into what was meant to be the happiest time of her life.
"I found out my dad had lung cancer when I was 12 weeks pregnant with River. That was particularly hard because my family were in Perth and I wanted to be with my dad as much as I could, but it got to a point when I couldn't fly anymore," she said.
"That didn't sit well with me because I thought, what if he goes and I can't get on a plane? To add to that, Sean's dad passed away and we had that funeral. So, when we had River in May, 2014, on the one hand, it was an absolute blessing we had this new baby to bring some joy into both of our families, who weren't in a good place."
You can listen to Megan Gale's full interview with This Glorious Mess: Little Kids below, post continues after audio.