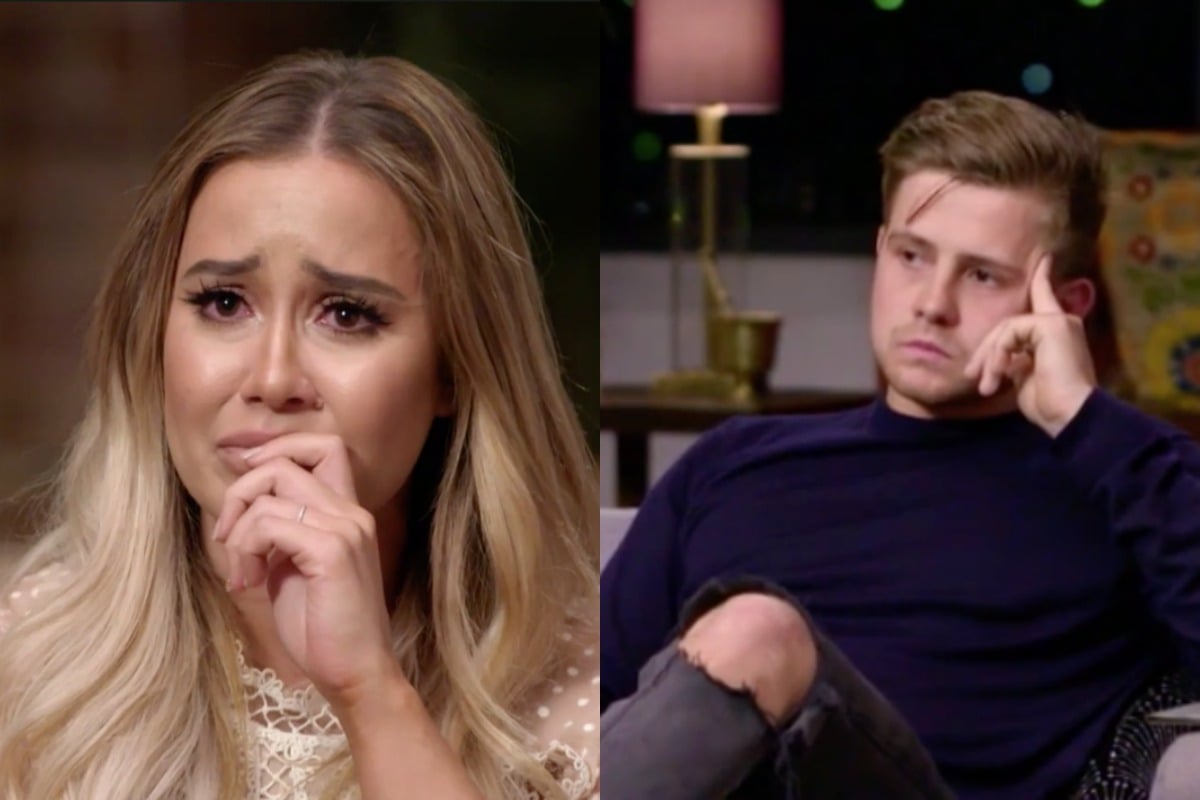 To catch up on all the MAFS 2020 recaps and gossip, check out The Twins recaps and visit our MAFS hub page. And sign up for our Recaps newsletter to get them straight into your inbox.
Well. Tonight we shamelessly watched the second commitment ceremony of the season, and it certainly did not disappoint.
First up to the couch was tumultuous couple, David and Hayley. The experts wanted to know how they turned their relationship around. And honestly, so do we.
After reminiscing about the past week, they both have put all the drama behind them and both decided to stay. So naturally, we've lost a bit of interest in them now.
Moving on. Season favourites Josh and Cathy were next up to the couch and it didn't take long for things to become… emotional. Cathy started crying and we just want to lean into our TV screens and fix everything for her. After a teary moment, both Josh and Cathy decided to stay.
Jonethen and Connie, aka the shining light of the season, were up next and explained how they moved past Jonethen's phone habit. They both decided to stay. Phew.
Ivan and Aleks and Michael and Stacey also want to stay. Oh, and so do that couple we keep forgetting about.
Right, now that we have all the happy couples out of the way. Let's move onto the real reason we love watching the show. The ~drama~.
Mikey and Natasha are next up. Mikey is still very much hung up on the comments that Natasha made about his erm… performance in bed.
After a very heated argument, Mikey decided to leave and we are… not so shocked. Natasha, on the other hand, wrote 'stay'. Which brings us to the best part of the show – when couples who really don't want to be together are forced to live together for ratings. 
Steve and Mishel will also join Mikey and Natasha in the most awkward week of their lives after Mishel wrote 'leave' and Steve wrote 'stay'. Yikes. 
Last up were Tash and Amanda, and it didn't take long for things to get heated. Especially when Hayley decided to throw in her two cents and add to the fight. But things eventually calmed when Tash read an emotional letter and Amanda gave a heartfelt speech, before they both decided to leave.
Honestly, what a rollercoaster.
Here's how Australia reacted.
Everyone on the #MAFSAU community wondering who Vanessa and Chris are…#MAFS #MAFSAustralia pic.twitter.com/cWDM5A0bia

— Married At First Sight Experts (@mafsexperts) February 23, 2020