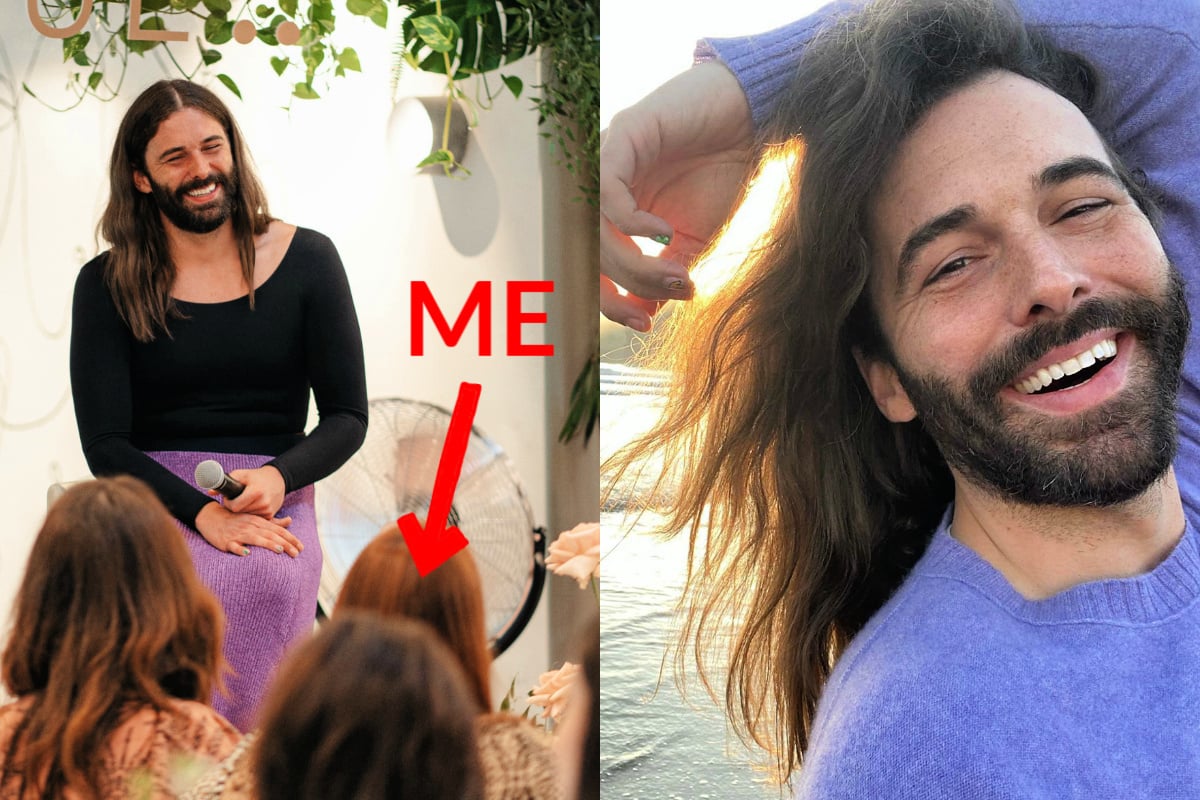 I remember exactly where I was the moment I fell in love with Jonathan Van Ness.
It was a Sunday afternoon in 2018. I'd been sitting on the couch for several hours and was 33 minutes through watching the very first episode of Netflix's reboot of Queer Eye, titled 'You Can't Fix Ugly'.
"If you're ever going to a major night and you want to calm your redness down, put this green [colour-correcting makeup] stick on your face. It won't get rid of the redness completely, but it tones it down," the makeover show's hair and skincare expert told 57-year-old Tom, a "dumb, old country boy from Kentucky" who signed up to be made over by five gay men.
Wearing his green stick, Tom felt good about what he saw looking in the mirror, perhaps for the first time in his life. That to me sums up the transformative power of Jonathan Van Ness, who is affectionately referred to as JVN.
This week, JVN has been touring Australia with his sold out stand up show Road to Beijing. In between charming audiences in Brisbane, Adelaide, Melbourne, Perth and Sydney, he's been relaxing on our beaches, exploring our cities and getting selfies with kangaroos and koalas.
He also met me.
No, we didn't catch up for coffee or catch up for brunch. I was one in a group of lucky journalists who had the chance to say hello and ask the comedian and New York Times best-selling author questions at an Australian launch event for Biossance, the skincare brand he's an ambassador for.
You can watch Jonathan Van Ness giving me some of his advice on how to find self acceptance in the video below. Post continues after video.
Listening to him speak about everything from clean beauty and climate change to his favourite beauty tips and what it's like touring the country as an "accidental comedian", JVN was as candid and captivating and joyous in real life as he is on TV and in his Instagram feed.